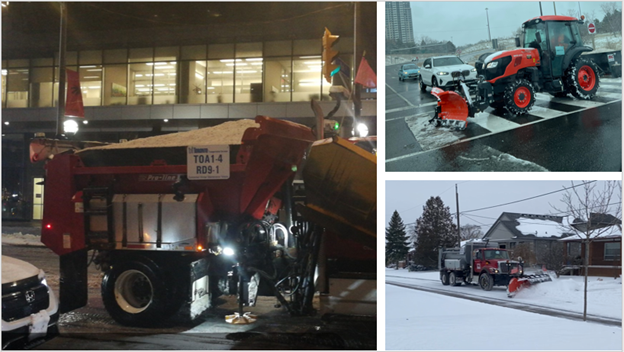 Why This Follow-Up Matters
Contracted winter maintenance services are part of the City's snow and ice management plan that is designed to prioritize the safety and mobility of all road, sidewalk, cycle, and path users. Nearly $1.5B in winter maintenance contracts (over a 10-year term) were awarded in December 2021.
City Council voted to have the Auditor General (AG) review:
the terms of the new winter maintenance contracts against previous AG recommendations
Transportation Services' processes to hold winter maintenance contractors accountable to the contract terms
The reviews were incorporated into our follow-up of the 26 recommendations in two previous AG reports on the winter maintenance program. The follow-up assessed whether management's actions, in the context of the new contracts (2022-2032), addressed the intent of the previous recommendations.
By The Numbers
1,300+ vehicles/equipment including 204 substituted vehicles/equipment
285 vehicles/equipment took 1 to 4+ months before a GPS signal was emitted. 105 did not have a GPS signal at the end of winter season. 367 sensor installations outstanding
$17.4M in liquidated damages communicated to contractors for 2022/23 winter season
$300K in negative price adjustments for 2022/23 winter season
Status of Recommendations
This report includes four new recommendations to improve how Transportation Services administers winter maintenance contracts.
What We Found
Progress:
Improved clarity of contract language (e.g., liquidated damages, allowances for stop times/break times, responsibility for working GPS)
Developed Winter Maintenance Contract Administration Manual which includes 32 standard operating procedures and forms/checklists. Trained staff on the Manual in Dec 2022/Jan 2023
Piloted a purpose-built GPS dashboard in Feb 2023 for monitoring service levels and contractor performance
Challenges:
Supply chain challenges, due in part to the COVID-19 pandemic, impacted availability of equipment and timing of arrival at depots, resulting in equipment substitutions and delays installing GPS devices
Resource and staffing challenges impacted the number of operators available to operate winter equipment
Administrative setbacks and technology gaps caused delays in integrating the new Enterprise Work Management System with existing processes and configuring the GPS dashboard for first winter season (2022/23)
Strengthening Processes to Consistently Enforce Payment Criteria and Apply Liquidated Damages
We could not verify that equipment arrived on time due to insufficient records of staff's physical verification of equipment at the depot and some daily rate sheets that did not have accurate information
Some equipment did not have evidence of working GPS (required for daily rates). Management paid daily rates as long as equipment could be deployed
Daily rates charged for most substituted equipment were different than the original rates in the contract for the same type of equipment
Procedures to verify that contractors completed all required activities on all routes within contracted timeframes can be improved to achieve consistency across the 11 contract areas
Processes to verify completed operations were highly manual/time- intensive because GPS dashboard/exception reports were not ready
Liquidated damages were not applied from Oct 2022 – Jan 2023. Two of the ten liquidated damages clauses applied from Feb 2023 onward
Ensuring Robust Monitoring of Contractor Performance
Contractor deficiencies and damage to property should be centrally tracked and liquidated damages applied when they are not resolved within the required time frames
Required sample of field audits to monitor compliance with service levels should be performed/well-documented to support applying price adjustments
Continuing to Implement Systems and Tools to Improve Efficiency and Effectiveness of Contract Management
Transportation Services should ensure the GPS dashboard/exception reports are ready and remaining GPS devices/sensors are installed before the second winter season (2023/24)
Challenges with EWMS delayed the Division's ability to implement the full functionality planned. Division continues to integrate its processes with EWMS
Strengthening Processes to Consistently Enforce Payment Criteria and Apply Liquidated Damages
We could not verify that equipment arrived on time due to insufficient records of staff's physical verification of equipment at the depot and some daily rate sheets that did not have accurate information
Some equipment did not have evidence of working GPS (required for daily rates). Management paid daily rates as long as equipment could be deployed
Daily rates charged for most substituted equipment were different than the original rates in the contract for the same type of equipment
Procedures to verify that contractors completed all required activities on all routes within contracted timeframes can be improved to achieve consistency across the 11 contract areas
Processes to verify completed operations were highly manual/time- intensive because GPS dashboard/exception reports were not ready
Liquidated damages were not applied from Oct 2022 – Jan 2023. Two of the ten liquidated damages clauses applied from Feb 2023 onward
Ensuring Robust Monitoring of Contractor Performance
Contractor deficiencies and damage to property should be centrally tracked and liquidated damages applied when they are not resolved within the required time frames
Required sample of field audits to monitor compliance with service levels should be performed/well-documented to support applying price adjustments
Continuing to Implement Systems and Tools to Improve Efficiency and Effectiveness of Contract Management
Transportation Services should ensure the GPS dashboard/exception reports are ready and remaining GPS devices/sensors are installed before the second winter season (2023/24)
Challenges with EWMS delayed the Division's ability to implement the full functionality planned. Division continues to integrate its processes with EWMS